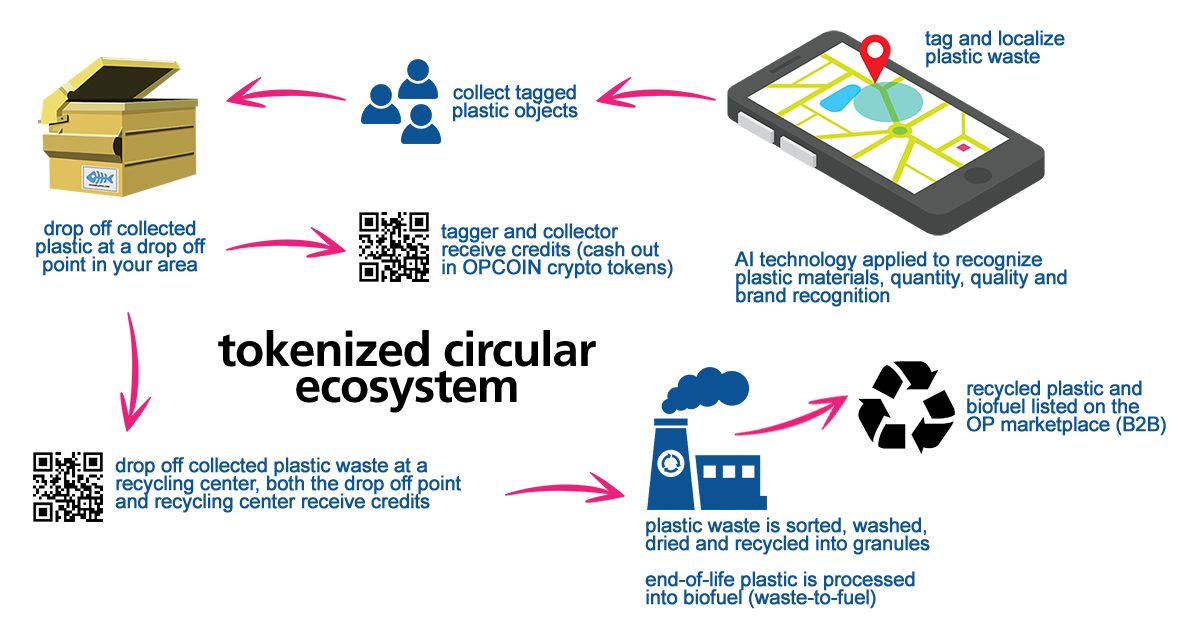 Non-recycable plastic waste will be processed into fuel and electricity with the
WASTEX P1000
machinery from our strategic partner
BIOFABRIK
(sustainable plastic recycling). Each unit can process up to 1,000 kilograms of plastic waste per day which will be converted into 1,000 liters of fuel powering 150 single-family homes.
Tag, collect and drop off plastic waste
By using this smartphone app, users are able to tag/localize plastic waste and adding attributes (single item, mixed, color, select a brand and add an estimated weight). Once submitted other PTAGGER users in that same region receive a notification about new tagged objects in their area (added into the collection queue).
Once a PTAGGER user assigns him/herself to collect and drop off a tagged object, he/she will receive navigational instructions from a nearby collection point, where the user can drop off the collected plastic objects.
Collection points
At the collect point the user is required to scan the associated QR code (listed on his/her smartphone) and weight the collected objects. Once processed both the user who tagged and the user who collected and dropped of the plastic objects are automatically rewarded with OCEANS tokens (exchangeable crypto tokens).
Collection points are entities within the ecosystem, having a fixed address and specific opening hours. Each collection point needs to have a smartphone and a digital scale to weight dropped off plastic waste.
Recycling centers
Collection points are required to drop off plastic waste at a nearby located recycling center. Once arrived on location, the recycling operator is required to scan the QR code (listed on the collection point operator's smartphone), weight and verify the dropped off plastic waste so both receive OCEANS tokens.
With attractive financial incentives, gamification elements and appealing rewards, OCEAN
PLASTIK
aims to involve people and encourage companies to be support all our activities, provide essential eduction and create awareness about the global plastic pollution problem.